… OPTIMIZING THE WORKPLACE
Transform the Workplace, increase output and profitability… By Transforming YOU. For Career Development and Organizational Growth (Transforming the Work Place For Optimum Output) using Peer-to-Peer System of Influence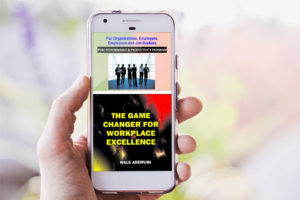 After the launch of our book: "The Game Changer for National Transformation", we realized that we cannot kiss greatness until the workforce become extraordinary. This program is an outcome of this idea: It is a unique design to help the individual, no matter his status or position on the job. Workplace effectiveness requires the same model, principles and ideals.
WE ARE RAISING STRONG CORPORATIONS FOR THE EMERGING PROSPEROUS NEW NIGERIA – RAISING WORLD-CLASS WORKFORCE
We hereby offer this program: Game Changer for Workplace Excellence to our workforce as opportunity of learning and the application of breakthrough ideas for outstanding performance. It avails them to be abreast of what it takes to lead and be ahead on the job: Their success starts with gaining certain basic understanding. Ours is a step by step design, connecting them to personal greatness. This means they grow with us with effective collaborations all the way to become extraordinary in life.
This is their opportunity to lead a more focused, goal-oriented life to unleash the deep seated capacity through a step-wise re-scripting of their daily lives in a way that supports great impacts and achievements. Helping them to be ahead as they learn the nitty gritty of our Game Changer model for Workplace Excellence. The society and nation would benefit through the step-wise personal development and leadership pact.
In addition, individual employee can emerge as Game Changer Ambassador of the year! Watch out for this.
Our design is a self-taught program, easy to grasp and easy to adapt universally for one's benefits.
We want this message to go far and wide as we support the emergence of new breeds of workers.
Cost Per Category:
Entry Level: Access to the Digital Content is #2,500
Access to the Digital Master Class Coaching Program is #9,900
Corporate Package, Pricing Reflects on Need
It's designed for Employees and employers alike for the workplace. Although, the material specially offers insight to wisdom of effective job execution and management. Therefore, whether you are at the top or bottom rung of the corporate ladders, this program will help you significantly.
The Background/Challenges and Birth of This Program
One of the biggest challenges of Nigerian employers is getting quality employees to fit into the available jobs. Without productivity at the workplace, we cannot have a flourishing economy. If every worker puts in his best; we would have an unmatched transformation in the shortest time. It isn't that we don't have well educated and skillful people around, but the way many go about the work is the very reason for low productivity and performance on the job.
If there is a program to help workers to transform their performance in an amazing way, this is the program.
Nigerian workforce is not performance oriented on the average; this evidently affects productivity both in the public and private sectors. This culture of non-performance is what has contributed to low productivity output and directly impacting on the growth and development of our corporate entities and the economy.
This Game Changer project is prepared to enhance productivity as the new cultural shift in organizations.
Every employer's dream (whether the government or individual) is to get high performers to do his job; unfortunately, our levels of performance skills have bereaved many organizations for high flying employees. We hope this program will raise a labour force that operates at the alpha level.
This is one of the reasons for creating this program as on the job training guide for the workforce irrespective of the nature or type of job he or she is into and also a veritable tool for the government, corporate organizations and even job-seekers.
Understanding of the workplace, the guiding principles and requirements of every job help employees tend to perform better. Training in these areas would help organizations to reach their goals much easily.
An organization is only as good as its workforce; the quality of goods and services provided by an organization is proportional to the quality of the workers.
Principles of effectiveness are adaptable from one job to the other. This is why a high flying employee would perform equally well on any other job of which he has requisite set of skills for.
So this training/coaching is all about being effective and result oriented person irrespective of the job you are into. It is our breakthrough design to help organizations exceed their goals and target much easily.
Think of the Benefits:
You achieve more results with less efforts because you now know how to use the tool of prioritization

Understand the very purpose why you are on the job

Achieve your dreams, results and success on the job and beyond

You understand the concept of control and KPI for driving a sustained success

Pull on, on the job with clarity and ease through clarification of purpose on the job

Helps you to understand the importance of teamwork and other leveraging tools for high performance

Develop the best of character for altruistic delivery of your best on the job

 
"Thank you sir for supporting the growth of our firm. The ideas you presented were indeed critical to the growth of our organization. It has made our start-up organization grow with ease and stability." Mr Folarin Oladele (Partner at Kentaiido Global Investment Limited).
"Every employer who wants to save his business before it dies will embrace the cutting-edge program. The Game Changer for Workplace Excellence is an outstanding program which I believe will be embraced by most Nigerian businesses to re-awake the growth of our organizations." Mr Gbolahan Adebowale (CEO at Fortis Limited).
SOME OF THE LIFE TRANSFORMING MODULES ARE AS FOLLOWS:
Plus many emerging videos from time to time.
The above is just a little of the inherent benefits. Within the pages include exercises for the employer and employees in order to achieve robust impact. To succeed is everybody's business. The program is practical and real!
The USP: The content could be served on the job through online interface, ongoing and suited for the workplace…
STEP-WISE CATEGORIES

1.
GAME CHANGERS FOR WORKPLACE EXCELLENCE SOCIAL DIGITAL PROGRAM
This is the first stage in our Game Changer for Workplace Excellence.
GameChangers for Workplace Excellence Digital Content is a Personal Development Program for employees, employers, corporate organizations, etc. It is only #2,500.00. The program contains self-taught lessons and worksheets. With #2,500.00 you are assigned a personalized login detail to the full digital program. Plus a peer support all along.
2.

GAME-CHANGERS MASTER CLASS

DIGITAL COACHING PROGRAM
This is the Second Stage in our Life and Leadership program for Academic Excellence.
GameChangers Master Class Digital Coaching is a Personal Development Program for the workforce. This program runs for at least 3-months with the support of resource persons to help the workforce operate at an optimum level of performance. It is only #9,900.00. With #9,900.00 you are given direct support.
Our coaching and peer mentoring are done through the online platform with intensive monitoring and feed-backs, while the peer-to-peer influence is made available through your ranks. Therefore, the program offers a support system that conditions individuals for a life of success on the job in record time.

3.

GAME CHANGERS PARTNERSHIP

WITH ORGANIZATION
This is an engagement with organizations to install the program into their organization's practices in order to improve their employees' performance. It is a one-time engagement to serve an organization for many years. This is an inclusive program that helps involve the organization, employers, and employees in the application of the peak performance program for enhanced productivity for workplace excellence, leadership development, and character development. The coaching runs for 3-6 months through a virtual interface.
Leaders of businesses and organizations should know that failures of executives to own appropriate measures to a robust financial growth will affect their personal income and that of the employees/members of their team. It is a one-time engagement to serve you for many years. Generally, it is intended to help members to create personal plans for high performance on the job. We also have a discount price for group registration.
It is a simple but transforming program that is dedicated to turning your workforce into high performers. The idea behind the executive program is a type of train-the-trainer design whereby you learn how to infuse a new culture of high performance into your organization. This will redound into high output and profit for an organization as a result of a new culture of productivity.
It will improve the productivity of every department of an organization
Increase production and sales
Reduce down time, labour lost and wastes.
Ultimately, it will save every participating industries and companies millions of naira
It will generate millions of naira in revenue and profits through the new cultural shift.
Targets: Managers, Head of Units and Supervisors, foremen, etc. The most suited persons include such who could influence their team, department or organization through a certain cultural shift. We deem it expedient to have more than one participant from every organization represented.
You are allowed to have a feel of the program by buying into our individual digital content of #2,500 as listed above in order to see what the executive one-to-one program looks like.
To book for our service make payment below or get in touch through our contact page or through one of our Game Changers Education Consultants.
Note:
When organizations subscribe to us, we can also help them to recruit new Game Changers Ambassadors of like minds into their system as an added benefit.
TO BOOK FOR ANY OF THESE PROGRAMS, MAKE PAYMENT THROUGH THIS PAGE:
NOTE: THE CONCEPT IS ADAPTED FROM THE GAME CHANGER MODEL
You can contact us through our contact page or through one of our Ambassadors.
NOTE: THIS GAME-CHANGER PEAK PERFORMANCE TRAINING IS ADAPTED FOR USE AT THE WORKPLACE.