Scale Up Your Child's Performance and Create Lifestyle Shift; A 3-Month Mentoring Program For Academic Excellence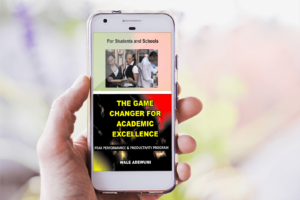 In this age of fun, computer games, phones and many other distractions, a child needs a concerted program for optimizing learning and growing to become responsible adults. For there is no shortcut to success and dream realization outside certain established model and system.
Based on the designs in our manual: Game Changers for Academic Excellence, we have come up with a mentoring program to aid in installing the amazing secret of outstanding life into our children/wards/students.
This is also a leadership and optimum performance program with varieties of contents to prepare our students/children for the life of excellence and extraordinary performance; and with primary focus of helping them scale up in their academics in amazing ways. This will help them take giant steps ahead of their contemporary starting now.
WHAT a student learns is not as important as HOW he learns it. The how is superior to what is learned. Give your children the tools for peak performance in their academics; and at the same time position them as great leaders of tomorrow.
Do you want your child to scale through the challenges of poor academic performance? This is the one program that will help do that. This will certainly help anyone in school improve significantly in his or her grades without struggling or forcing the child through the process?
Do you want a transformed child? Do you want a child who will rise to become an emerging leader of his time based on the mentoring installation? Seize the moment and seize the time. Enroll your child into the Game Changers for Academic Performance/Leadership Academy Advance program today!
Primary Objective:
To help the participant create new incremental academic shift for their children using our model
Reprogram them towards a new level commitment and dedication to academic rigours
To teach them the basics of leadership and capacity to take up responsibility
Open them up to a focused and purposeful life by offering them lenses into the distant future.
How It Runs
We have one-to-one use of the manual Game Changer for Academic Excellence
Create unique worksheet for daily self-appraisal
Offer weekly routine monitoring system
Offer simple secrets to earn great grades in upcoming exams
Design blueprints for incremental changes and transformation for a quarter and extrapolated throughout a year.
Runs the program online from any part of the world; we target Nigeria as our domain.
It is a 3-Month Mentoring Program.
We believe that this program will achieve immense impact on the life of everyone who chooses to use it. This program will also cause a student participant to lead his life through abundant thinking for self realization. Remember, every child has capacity to lead a great life of impact. This is our business at Game Changers platform… helping individuals make outstanding impact. Register your child today and let the transformation begins NOW.
This program is an outcome of many years and now offered to help your children/student begin to come out of exams with flying colours and the same time offer them subtle transformation programming tool for a renewed mindset for outstanding life of success. Students who participate in the program have the guaranty of becoming better equipped for life and with marked improvement in the next one year in their academics.
This program as said earlier is uniquely designed to position the students for a life of impact; it is their opportunity to be exposed to rudiment of leadership excellence using the Game Changer Model. The fundamental reason for this program is to raise productive youths who grow to offer quality leaders at their realms especially for our nation. Transformational leaders need to be nurtured through the years to come. This is what we do here.
SOME OF THE LIFE TRANSFORMING TOPICS ARE AS FOLLOWS:
PRACTICAL LOOK AT THE GAME CHANGER FOR ACADEMIC EXCELLENCE
PRACTICAL LOOK AT THE GAME CHANGER FOR NATIONAL TRANSFORMATION – APPLICATION ONLY
TAKING RESPONSIBILITY
BECOMING STRONG
PLAYING THE PART
LANGUAGE PROFILING
TIME MANAGEMENT TACTICS
THE POWER OF THE STRUCTURED LIFE
ENVISIONING
20-DAYS SELF MASTERY PROGRAM
90 DAYS ACADEMIC IMPROVEMENT PROGRAM
ETC..
The program also contains exercises for the students in collaboration with parents or guardians in order to achieve robust impact. To succeed is everybody's business.
The program is designed for the holiday period. We take new students every week and each one run at his or her pace. Between 8:00am-10am or 8:00pm-10:00pm online. We hope to make it one of the best experiences for the secondary school and tertiary institution students. The program is designed to give them a leap in their academic calendar: A 360 reorientation.
Game Changer Leadership Program Cost

The cost for participation in the associate level program is #7,500.00 for the 3-Month Online Mentoring Pack
To book for our service make payment below or get to us through our contact page

OR PAY THROUGH OUR ACCOUNT AT:
ACCOUNT NAME: FIREWORD RESOURCES
ACCOUNT NUMBER: 0040126306
BANK: ACCESS BANK PLC
NOTE: GAME CHANGER LEADERSHIP PROGRAM IS ALSO ADAPTED FOR USE IN BUILDING LEADERS FOR THE FUTURE AND TO HELP STUDENTS WITH ACADEMIC CHALLENGES OR THOSE WHO WISHED TO BE AT THE TOP MARGIN. WE GIVE OUT CERTIFICATE OF COMPLETION AFTER THE PROGRAM
FOR FURTHER CLARITY PLEASE CONTACT WALE ON 08033750871