Life & Leadership Project For National Transformation
Stand Out | Learn | Lead | Earn
>>>>>>>>>>>>>>>>>>>>>>>>>
| | |
| --- | --- |
| | "When bad men combine, the good must associate, else they will fall one by one, an unpitied sacrifice in a contemptible struggle." - Chief Obafemi Awolowo |
| | |
| --- | --- |
| | "Those who love peace must learn to organize as effectively as those who love war." - Martin Luther King Jnr |
We have programs running here designed to enrich you and at the same time help us fund our activities and that of our promoters. Subscribe to any suitable one or help promote it at https://gamechangersnigeria.org/programmes/





The Game Changer Project is a practical intervention platform based on the concept promoted by the book: The Game Changer for National Transformation. Here we aggregate based on common ideologies of raising a better society and nation. One of our cardinals is offering to the nation the holistic principle of steering Nigeria in the right direction; promoting productivity, high performance and leadership development especially among the younger generations so that they would rise and socially impact their communities, organizations, schools and campuses around the nation.
OUR AIM IS TO MOBILIZE 7 MILLION NIGERIANS TO DEMAND FOR OUR DREAM NATION THROUGH EMPOWERMENT PROGRAMS & EDUCATION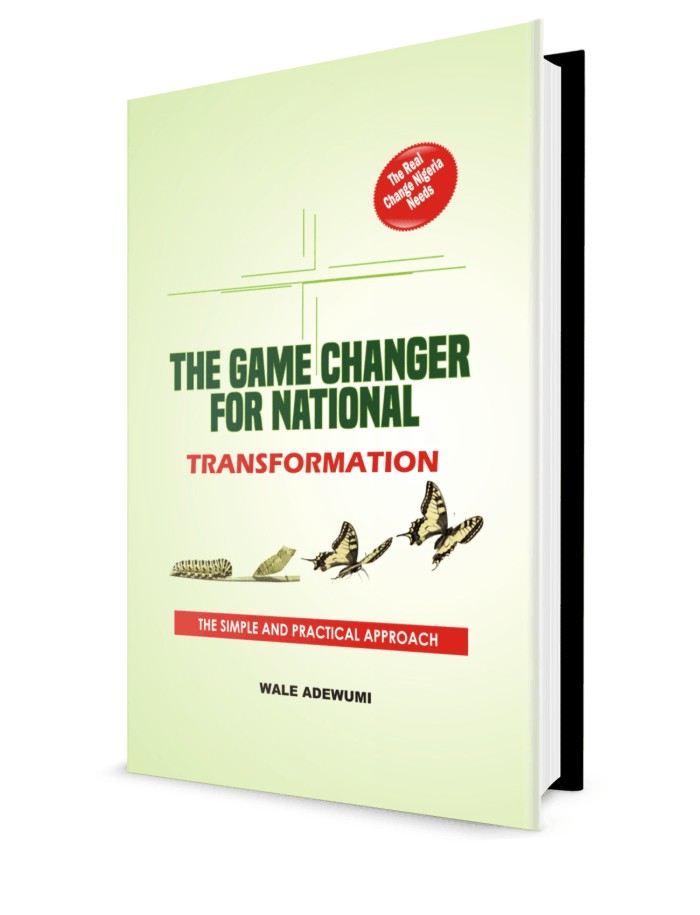 It will interest you to know that the journey to a national rebirth has begun already and we are expanding our impact. There's no time to waste if we must as a team direct the course of the Nation to a positive end.
The great mobilization has begun. We want to mobilize more than 7millions into a highly productive force. A productive society has the right footings towards advancement.

This is a new dawn! Please let's all get to work.

It is a program with loads of benefits, with the opportunity to learn, earn through peer influence; at the same time campaigning for a great nation at the same time.
MAKE NO MISTAKE ABOUT IT: EVERYBODY HAS THE POTENTIAL TO EARN THROUGH OUR PAID PROGRAMS. CONTACT US TO LEARN HOW. EVERY PLATFORM THAT WANTS TO SHIFT THE PARADIGM MUST OF NECESSITY CREATE INCOME OR WEALTH IN ITSELF ELSE IT WILL RUN BACK TO THE GODFATHERS
DO NOT WASTE THE GREAT OPPORTUNITY IN THIS BIG LAUNCH... WE HAVE STARTED

Register as many people as possible. This will determine how many benefits and earnings you can make here.

**** Those who attain up to 100 referred registration become associates while 500 and above registration makes you a coordinators. Such mass registration can be achieved from a single group/association/platform and the validity of your registration is to your benefit. Once you attain such levels, let us know because it goes with benefits.
REGISTRATION IS FREE, BUT TO EARN YOU MUST HELP OTHERS SUBSCRIBE TO ANY OF OUR PROGRAMS

YOUR EARNING POTENTIAL DEPENDS ON THE NUMBER OF PEOPLE THAT REGISTER THROUGH YOU

To register, go to https://gamechangersnigeria.org/register/

Use FIREWORD as the referrer username when you are registering.
Note: After your registration, let those you refer use your username during their registration. Then share far and wide for your income possibility.

Thanks.
OUR MISSION: To raise influencers who promote societal development, quality education, productivity, excellence and leadership development.
SUBSCRIBE FOR OUR

NEWSLETTER NOW
Join free of charge now! Thanks

>>>>>>>>>>>>>>>>>>>>>>>>>>
>>>>>>>>>>>>>>>>>>>>>>>>>>>>

At GAME CHANGERS, we are builders. We don't sit around and talk about problems; we actively build solutions to those problems others talk about in our nation through the tribes. GameChanger is our emerging community with a proven track record of not running for aids and supports all over the place. We design solutions that earn us money to drive our initiatives and projects; although it has not been easy, please. Despite it all, we continue to survive and thrive by the grace of God and thanks to the support of people like you.




If you want to help fund our efforts in building Game Changers projects you can subscribe to any of our programs with their attending benefits, training and solutions. The minimum is #2,000 access to any of our digital programs. Check the program section. Those who help us to build our peer-to-peer influence (tribe) earn income with us, so you can take an early look at our programs to make any subscription.




Thank you for your continued support and prayers! Keep the faith for a better society and nation. I know many of you are scared, tired, anxious, stressed, and uncertain about our future as a nation. I believe that God is using this period to make us into better people. Without becoming better, we cannot have a great nation even with all our supplications. Ultimately, God will lead us to a safe haven when we make up our minds to transform. The change we want starts with you and me; and NOW.




God bless YOU
WALE ADEWUMI
CEO/COORDINATOR: FIREWORD/GAME CHANGERS, NIGERIA PROJECT
>>>>>>>>>>>>>>>>>>>>>>>>>>>>